We are Now Only Open for All Booked & Prepaid Fishing Tickets.
Only Prepaid and Booked Angler's are Allowed to Enter Fishery.
Any Persons not Pre-Booked and Paid Will Be Refused Entry.
Social Distancing Must Be Adhered To.
Tackle/Bait Shop Closed, Paid Phone – Orders Only.
Tackle/Bait Collection Only, Sorry: No Exchanges or Refunds.
All Rubbish Must Be Taken Away (Home) With You.
Sorry No Pets Allowed At The Moment.
 www.facebook.com/holidaysfishing/
Gateway to Exmoor & the world of Specimen Carp & Coarse Fishing
Oaktree Specimen Carp and Coarse Fishery, South Molton, North Devon is surrounded by beautiful, unspoiled countryside rich in wildlife, with far reaching views of the Exmoor National Park. A haven of peace and quiet covering 50 acres, Oaktree Carp Fishery has been specially created to provide the ultimate Specimen Carp and Coarse fishing experience for the serious fisherman or the absolute beginner, who can expect to catch some good quality fish at their first attempt.
Three heavily stocked lakes (2 match lakes, 1 specimen lake) containing a variety of Carp including Common Carp, Mirror Carp, Ghost Carp, Leather Carp, Koi Carp, Crucian Carp, plus a Wells Catfish 60lb+, Tench, Perch & Bream. Shop on site with extensive range of Carp baits, Carp tackle and a good selection of coarse fishing equipment. Tackle hire is available. Hot/Cold Food & Drink. Fishing is available all year round.
Oaktree Cottages southern exmoor are comfortable self-catering cottages set in beautiful North Devon countryside on the edge of Exmoor National Park. Dog Friendly. More Details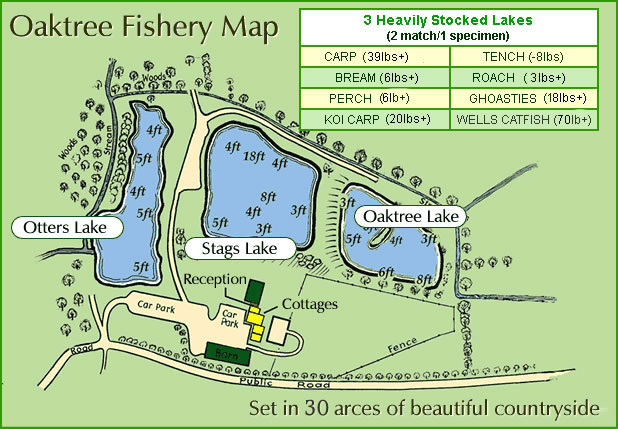 Due To Current UK Covid-19 Outbreak,
As the week has gone on, with continued lack of clarity on what the social distancing measures mean for self-catering cottages and despite us asking for that clarity from the Government, we have come to realise that we need to help our friends in the communities in which we work and live including health care professionals, police and other essential services, by asking people to stop travelling on holiday in the near term.
It is for this reason that as of now we are ceasing to take new bookings for holidays with a start date between now and the 4th July 2020. We are not in a position to enforce any travel restrictions across the UK, however, we are also asking that any customer with a booking due to depart between now and 30th April 2020 defers their booking and moves it to a date later this year or next.
To be clear:
We are strongly advising customers against travel. only within Government Guide lines.
These customers will be eligible to amend their holiday dates with no amendment fee.
Seasonal price differences will be charged.
Any customers already en-route will be informed and can travel at their discretion.
We will be taking no new bookings for holidays taking place up to 4th July 2020.
We will be taking new bookings for holidays From 4th July 2020 onwards. (Please check)